"This post may contain affiliate links or sponsored content. I am disclosing this in accordance with the Federal Trade Commission's 16 CFR, Part 255: "Guides Concerning the Use of Endorsements and Testimonials in Advertising." See my Disclosure Policy for more info.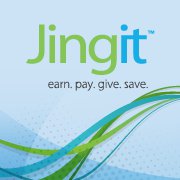 There is this new site called JingIt. You watch 30 sec to 1 min ads and get paid a fair amount to watch each ad. Sometimes when you come up on a new ad they have you answer a few SUPER QUICK questions. And then your on your way to the next ad. I've been at it for 11 days. Now mind you they have a starting cap of $5.00 per week but as you bring on your friends you get $0.25 per friend till you hit the max of $10 per week. This appears to only be this low as they are still in Beta who knows what it will look like later on.
Here is my current JingIt Balance.
When you first start once you hit the $2.00 mark you can order yourself a JingIt Visa Debit card and they deduct $2 from your balance for that. But then go ahead and keep earning. in 10 days or so you will get your Debit card and can transfer those funds to your card and go spend your earnings as quick as you make it.
The really cool thing about this is even your teen can join. Anyone 13 or older can watch the ads and have their own Debit card. My 16 yr old has also joined and is looked forward to building his funds up to buy a video game he has been wanting.
So come JingIt with us and make yourself some easy money.
How exciting right?? Why not click one of those share buttons below and let your friends know 🙂
Also be sure to go Like Us On Facebook and Follow Along in the Chat Group.
Share your deals with the other Frugal Fans.
If you have liked what you saw today, Please Consider Signing up for our Daily Newsletter. Keep up to Date on all the Hot Deals. Sign Up Now