"This post may contain affiliate links or sponsored content. I am disclosing this in accordance with the Federal Trade Commission's 16 CFR, Part 255: "Guides Concerning the Use of Endorsements and Testimonials in Advertising." See my Disclosure Policy for more info.
Review & Giveaway being held by
DivineDealDiva
, content of post is here as a Guest Post. Giveaway Entry Form is at the end of the post.
Thanks
Arts and Crafts are a big part of our life. My 10 year old and I can get as lost in a project as I can clipping coupons. From hair bows, purses and duct tape crafts we love to create. One of my favorite craft kits is from Creativity for Kids. In the past we have created with the potholder loom, nail art and shrinky dinks from Creativity for kids.  
Momma loves it because the crafts come together in one kit, can be done with the entire family including our boys, and I do not have to buy any extras. Most of all it allows me time with them outside the hub bub of our busy life, where I can focus on their creativity. My 10 yr old daughter loves it because as she put it "It is just my style"! My daughter was very excited to get a chance to review a product made just for her over this last month. Especially with her little brother being sick so much and all the rain we have had, it was a nice way to unwind and get lost in a project.  
 My girls had loads of fun with the Deluxe Glitter Art Kit ($29.99). It included large assortment of glitter glue, glitter stickers, glitter paper, greeting cards, trinket boxes and much more. The girls had about 2 hours of fun. They made everything from note cards, ornaments, trinket boxes and more. We used our craft table cloth (a simply vinyl table cloth) because of the glue and glitter. It is no fun when you have to worry about a mess, this lets them be as creative and messy as they want to be. Make sure to visit Creativity for Kids on Facebook, Twitter and Pinterest.


The following week, the girls had a sleep over before school started and they had so much fun creating fashion bracelets. 
 You are able to make 15 bracelets from Chunky to thin metal bracelets. The kid includes 15 bracelets, embroidery floss, scissors, glue, satin ribbons, adhesive tape, rhinestone trim and more! You can see from the pictures how much fun they had!  
My In-Laws were here visiting last week and Nana was excited to be able to do the Kids Mossy Meadows  Gnome Garden ($29.99) with her grand babies. I  love a project that can include all my babies from my teen son Layne (14), Daughter Belle (10) adopted daughter Jaimee (10) and our baby boy Wes (4) this was a project everyone could do. The only problem they had was who was the painter so we compromised on section off the pot and letting them paint it as they wished.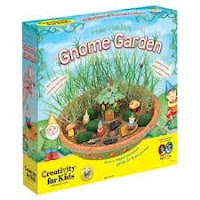 This kit came with everything you needed for a potted garden. Dish, potting mix, wheat grass seeds, pond, mossy rocks, stepping stones, toad stools, lady bugs and more! For this project we put a few newspapers on the table.
They keep checking every day to see if the grass is growing. Wes loves to play with the gnomes in the pot. To our surprise this morning we were able to find many sprigs of grass growing J
WIN IT:
One Lucky fan is going to win (2) Creativity for Kids kits, a Deluxe Glitter Art kit like the one above AND a Beach Buddies Shell Craft ($36.98 value).
DETAILS:
Fill out the form below/enter to win.
Contest ends 9/8/12 at 11:59 pm. Winner will be announced and sent via email
Winner had 48 hours to respond before choosing a new winner
U.S. Residents only please. 
I received the products listed above to review from Creativity for Kids 
All thoughts and opinions expressed are my own and no compensation was given.



How exciting right?? Why not click one of those share buttons below and let your friends know 🙂
Also be sure to go Like Us On Facebook and Follow Along in the Chat Group.
Share your deals with the other Frugal Fans.
If you have liked what you saw today, Please Consider Signing up for our Daily Newsletter. Keep up to Date on all the Hot Deals. Sign Up Now