"This post may contain affiliate links or sponsored content. I am disclosing this in accordance with the Federal Trade Commission's 16 CFR, Part 255: "Guides Concerning the Use of Endorsements and Testimonials in Advertising." See my Disclosure Policy for more info.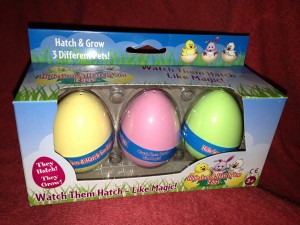 I recently was given the opportunity to review the Hide Em' & Hatch Em' Eggs from SCS Direct,Inc. I honestly do not usually take on to many reviews as we all know from past posts my life is kinda busy outside the blog LOL.
However I had to do these because my son LOVES any of those grow toys that get big while in water.
Let me tell you he was SO excited when he realized that was what these were but that they had to hatch out of the eggs while they grew.
The instructions state to put them in room temperature water for 6 – 12 hours, however that was not the case with the batch we played with. They were in the watch for over a day and half and had only partially started to hatch. I'm not sure if it was because we were a little chilly for those couple days or what. But anyways the cracks in the egg were enough for my son to want to force them out. He had fun checking on them to see how much they had progressed at getting out of the egg but once were were into a whole new day all bets were off LOL.
The animals that come out are so cute and they continue to grow after they get out of the egg
These are the #1 Easter Gift on Amazon and make for a nice addition to any Easter basket without loading it down with Candy.
How exciting right?? Why not click one of those share buttons below and let your friends know 🙂
Also be sure to go Like Us On Facebook and Follow Along in the Chat Group.
Share your deals with the other Frugal Fans.
If you have liked what you saw today, Please Consider Signing up for our Daily Newsletter. Keep up to Date on all the Hot Deals. Sign Up Now