"This post may contain affiliate links or sponsored content. I am disclosing this in accordance with the Federal Trade Commission's 16 CFR, Part 255: "Guides Concerning the Use of Endorsements and Testimonials in Advertising." See my Disclosure Policy for more info.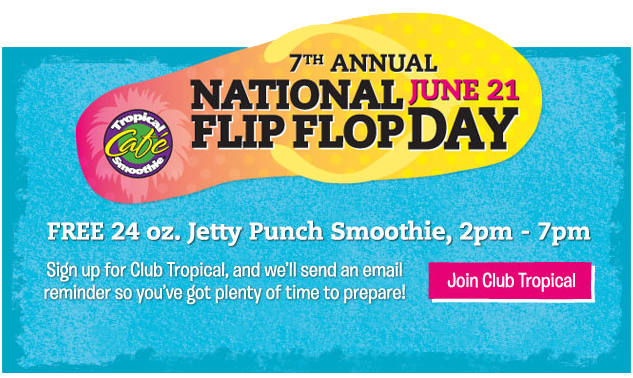 Friday June 21st is National Flip Flop Day!!
Wear a pair of Flip Flops into your Local Tropical Smoothie Cafe on June 21st
and be rewarded with a 24 oz Jetty Punch Smoothie
2 pm – 7 pm
Every year, on the third Friday in June Tropical Smoothie Café celebrates its national holiday; National Flip Flop Day! This year's National Flip Flop Day will be held on June 21, 2013. And, customers who come into our more than 300 Cafés nationwide from 2 pm to 7 pm sporting their finest flip flops will receive a free 24oz. Jetty Punch Smoothie. Sure, Tropical Smoothie Café loves flip flops so much that we've created a holiday to celebrate the shoe. But, there's more to it than just that. What started as a day to thank our customers for their loyalty to Tropical Smoothie Café, has turned into a mission to raise money for Camp Sunshine. Camp Sunshine is the only retreat in the nation to address the effects of a life threatening illness on every member of the immediate family – the ill child, the parents and the siblings.
How exciting right?? Why not click one of those share buttons below and let your friends know 🙂
Also be sure to go Like Us On Facebook and Follow Along in the Chat Group.
Share your deals with the other Frugal Fans.
If you have liked what you saw today, Please Consider Signing up for our Daily Newsletter. Keep up to Date on all the Hot Deals. Sign Up Now