"This post may contain affiliate links or sponsored content. I am disclosing this in accordance with the Federal Trade Commission's 16 CFR, Part 255: "Guides Concerning the Use of Endorsements and Testimonials in Advertising." See my Disclosure Policy for more info.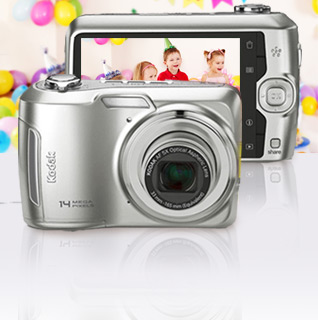 Here is today's Hot Deal on 1Sale for the Kodak EasyShare C195 14MP Digital Camera With 5x Optical Zoom, Kodak Smart Capture & One-Button Upload!

And you can pick it up for $39.99 + FREE SHIPPING!
You have to hurry though because these deals are only around for 24 hours!!
Do you have someone on your list wanting a Digital Camera? I can honestly say I've never had a bad experience with Kodak Digital Cameras, they just keep on ticking, long after they should of given up. Shots are very nice from them too.
My wedding photos were taken with a Kodak Digital Camera over 11 yrs ago and they still stand up to today's standards in point and shoot quality.
~~~~~~~~~~~~~~~~~~~~~~~~~~~~~~~~~~~~~~~~~~~~
Product Description
Offering 14 megapixel resolution and 5x optical and digital zoom, the Kodak C195 Digital Camera is packed with features including a 3.0″ LCD display that lets you preview before you shoot. Extremely user-friendly, Kodak's Smart Capture feature automatically identifies the scene and adjusts the camera settings accordingly for a great picture in just about any environment.
Equipped with picture enhancing and editing features, the Kodak C195 is the perfect digital choice for anyone looking to prolong and immortalize the good times. The one-button upload makes it easy to share photos while the camera's 32MB internal memory and SD-card expandability allow you to shoot and store hundreds of photos. Accessories include a wrist strap, USB cable for PC or Mac connections, and two AA batteries.
How exciting right?? Why not click one of those share buttons below and let your friends know 🙂
Also be sure to go Like Us On Facebook and Follow Along in the Chat Group.
Share your deals with the other Frugal Fans.
If you have liked what you saw today, Please Consider Signing up for our Daily Newsletter. Keep up to Date on all the Hot Deals. Sign Up Now