"This post may contain affiliate links or sponsored content. I am disclosing this in accordance with the Federal Trade Commission's 16 CFR, Part 255: "Guides Concerning the Use of Endorsements and Testimonials in Advertising." See my Disclosure Policy for more info.
Looking for a Checking Account Alternative? If you have ever got yourself in trouble in the past with a bank account and are in a period of trying to fix those issues but can not have a bank account, you know the drill of having to use Pre-paid cards. But lots of those cards are loaded with fees and you lose more money to fees
 with them then you did having a bank account.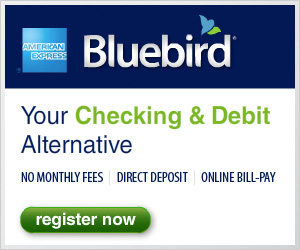 Well American Express is now offering a card called Bluebird and it is the PERFECT ALTERNATIVE!! You can go into any Walmart and load your card ABSOLUTELY FREE!! Thats right No Load Fees. If you need to cash a check to load it then yes you will still pay Walmart's $3 Check Cashing fee, but that is only if it is over $300, if your check is under $300 then they only charge 1%. You can also do Direct Deposit to your Bluebird card and avoid the check cashing fee.
Also if you make use of Direct Deposit you can use any MoneyPass ATM for FREE. Order your card online and get it for FREE also, if you grab it in store you have to pay $5.95 for it, grab one here for FREE!!
SAY GOOD BYE TO RIDICULOUS PREPAID CARD FEES!! No Load Fees, No Card Replacement Fees, No Monthly Fees, No Inactivity Fees, No Overdraft Fees, No Bill Pay Fees, No Foreign Exchange Fees!!
Through April 1st you can also order Checks for Free, after then unless you make use of Direct Deposit it will be $26 for 50 checks. Checks work a bit differently with Bluebird though, when you write the check, be sure and login and make it known as soon as possible, that way it will set the funds for it aside for the check you wrote.
Bluebird also offers that new feature where you can snap a picture of a check and have it deposited, which is great for any money you do not need immediately available.
You can also send money to other Bluebird and Serve Card holders just by sending it to their email address they have linked to their account, just like Paypal.
And the best thing, to help you start saving and making better choices with your money, they offer a SetAside Account, where you can transfer funds into that just like a savings account, where it puts those funds out of sight and out of mind. Sure it does not offer interest on that like a true savings, but it helps you put money away for anything you may need to save up for.
How exciting right?? Why not click one of those share buttons below and let your friends know 🙂
Also be sure to go Like Us On Facebook and Follow Along in the Chat Group.
Share your deals with the other Frugal Fans.
If you have liked what you saw today, Please Consider Signing up for our Daily Newsletter. Keep up to Date on all the Hot Deals. Sign Up Now