"This post may contain affiliate links or sponsored content. I am disclosing this in accordance with the Federal Trade Commission's 16 CFR, Part 255: "Guides Concerning the Use of Endorsements and Testimonials in Advertising." See my Disclosure Policy for more info.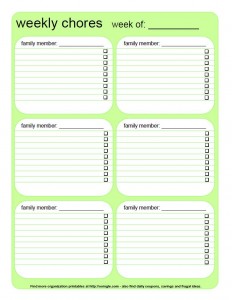 As a full time working Mom my time is pretty limited and hectic, I tend to forget what I am doing week to week, and at times don't remember what I did day to day. Needless to say I could use some Time Organization.
I have created these handy printables to help myself and my lovely readers to help manage your time. If you are like me, sure you might have a smart phone, but NEVER use it to its full ability. My hubby reminds me all the time when I forget to do something, that my phone has this wonderful feature of reminders and why don't I make use of it LOL.
Lord knows why I do not make use of it, but I don't and do much better to write things down. Hopefully a nice large piece of paper for the day, week or which ever will not get lost as easily as my little scraps of paper I tend to jot things down on.
This handy and practical Weekly Chores features a box for each family member so you can delegate the chores among the family, no more fighting over whos turn it is to do the dishes.
You can grab these handy pdf printables I have created and print them over and over as much as you need to help you plan your day, week or even month.
Grab more of these printables in our Time Organization Series – They will be released over the next few days.
How exciting right?? Why not click one of those share buttons below and let your friends know 🙂
Also be sure to go Like Us On Facebook and Follow Along in the Chat Group.
Share your deals with the other Frugal Fans.
If you have liked what you saw today, Please Consider Signing up for our Daily Newsletter. Keep up to Date on all the Hot Deals. Sign Up Now