"This post may contain affiliate links or sponsored content. I am disclosing this in accordance with the Federal Trade Commission's 16 CFR, Part 255: "Guides Concerning the Use of Endorsements and Testimonials in Advertising." See my Disclosure Policy for more info.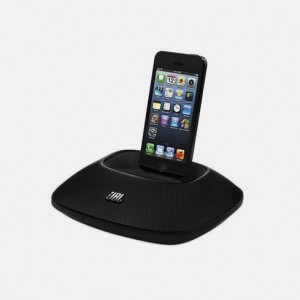 If you've got an iPhone 5/5s/5c, you need the JBL OnBeat Micro Speaker Dock. With the new Lightning dock connector built-in, the JBL OnBeat Micro Speaker Dock lets you enjoy your music without wires or adapters, and even has a USB port for compatibility with other devices. Compact and portable, the JBL OnBeat Micro can bring the noise from ceiling to floor for up to 5 hours when it's using batteries (not included) and allows you to charge your docked device when it's using AC power. The JBL OnBeat Micro is good to go whenever the rhythm hits you.
Built-in Lightning docking connector
Get live with the music on your iPhone 5/5s/5c thanks to the JBL OnBeat Micro's Lightning docking connector. The connection is built-in, so there's no need for wires or adapters.
JBL full-range transducers
Find a room and rock every bit of it. The JBL OnBeat Micro features not one but two JBL® full-range transducers to project incredibly dynamic sound that fills your surroundings.
Digital signal processing
JBL speakers – even small ones – aren't misers when it comes to delivering great sound. The JBL OnBeat Micro employs digital signal processing to generate big audio with great bass from a compact speaker.
---
Shipping Information:
How exciting right?? Why not click one of those share buttons below and let your friends know 🙂
Also be sure to go Like Us On Facebook and Follow Along in the Chat Group.
Share your deals with the other Frugal Fans.
If you have liked what you saw today, Please Consider Signing up for our Daily Newsletter. Keep up to Date on all the Hot Deals. Sign Up Now