"This post may contain affiliate links or sponsored content. I am disclosing this in accordance with the Federal Trade Commission's 16 CFR, Part 255: "Guides Concerning the Use of Endorsements and Testimonials in Advertising." See my Disclosure Policy for more info.
I was contacted by a site called Sassy Steals a few weeks back, and they gave me $50 in Sassy Points to go shopping with on their site. Sassy Steals is a Daily Deal site, so items come and go pretty quickly on there, typically what you see one day will be gone the next.
However thats not to say, if you miss one item there will be another item just as equally desirable that pops up LOL It was so hard for me to narrow it down to what to order.
The items they carry are typically cute and fashionable items ladies would love, but as you can see I found techie items that even your man might like 🙂 The prices are awesome, and you can get a lot for your money. Also they offer a referral program where you can earn Sassy Points when your friends shop, so you always have the chance to earn some free stuff.
Make sure you read on through and enter the Giveaway at the end, that way you too can have fun shopping.
First I ordered these cute Floral Sunglasses, they were $4.95, I grabbed 2 pair cause I'm super rough on sunglasses and figure I'll miss them if they break LOL
Next I grabbed 2 of these super cute Neon Striped Bags, a Pink & White one and a Green & White one, they were only $9.95 ea!! They promoted them as Beach bags, but honestly this bag has been great for my daily bag to go to work with, and is the perfect width for my laptop plus everything else I need to carry.
And the final part of my order was 2 of these Bluetooth Speakers, I grabbed a Pink one and a Black one for my hubby, made for a great Father's Day gift for him, these were only $12.99 ea. And DANG let me tell you these puppies are LOUD when you connect them to your phone. These would be great to bring outside and enjoy some music while your working in the yard. They have a Suction Cup bottom, they are rechargeable, and sync up super easy and fast with whatever you want it to play from.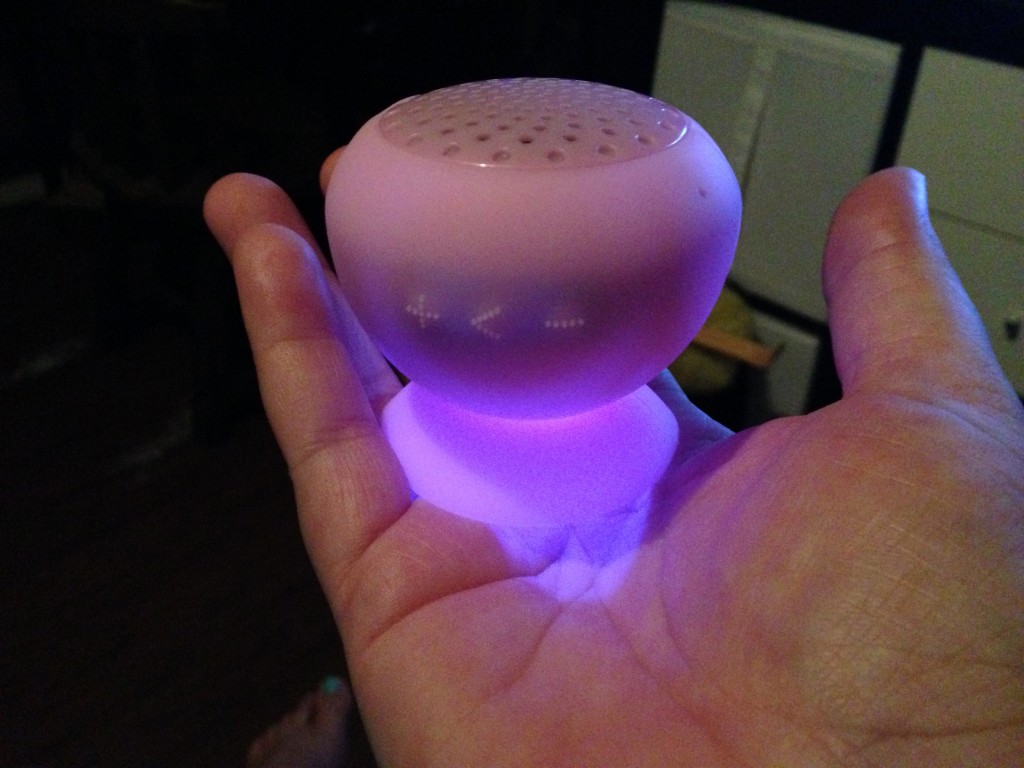 NOW Here is the FUN PART!! Who wants to win $50 in Sassy Points to go shopping too?? They will also provide you with a shipping code for Free Shipping. Be sure and apply your points first and then the shipping. The cart gets silly. Also go ahead and create yourself an account so if you win they can credit your account quick & easy.
Giveaway starts tonight 06/26/14 at 9 pm and runs till July 10 at 9 pm, the system will auto select a winner, Winner will have 48 hrs from the time I send the email to response, otherwise a new winner will be selected.
Terms & Conditions: Open to Residents of the US only. Prizes cannot be shipped to PO Boxes. Winner will be selected automatically at the close of the giveaway by this entry system. Winner will be notified by email. Winner will have 48 hours to respond before a new winner is selected. Please note that any of the hosts of this giveaway are not responsible for sponsors that do not fulfill their prizes. We have represented each sponsor with the expectation they will fulfill their prize and in a timely manner. Sponsor will be contacted regarding your prize(s) immediately upon receiving a shipping address. The sponsors, in most cases, are shipping their items to you directly. Every effort will be made to assist you obtaining your prize. If there is an issue with a sponsor, please notify the us within 30 days for assistance, after that we may be unable to assist you. The product provided for the review was free of charge from the company. The product offered for the giveaway is free of charge, no purchase necessary. My opinions are my own and were not influenced by any form of compensation. Facebook, Twitter and Google+ are in no way associated with this giveaway. By providing your information in this form, you are providing your information to the hosts and the hosts alone. We do not share or sell information and will use any information only for the purpose of contacting the winner.
How exciting right?? Why not click one of those share buttons below and let your friends know 🙂
Also be sure to go Like Us On Facebook and Follow Along in the Chat Group.
Share your deals with the other Frugal Fans.
If you have liked what you saw today, Please Consider Signing up for our Daily Newsletter. Keep up to Date on all the Hot Deals. Sign Up Now