"This post may contain affiliate links or sponsored content. I am disclosing this in accordance with the Federal Trade Commission's 16 CFR, Part 255: "Guides Concerning the Use of Endorsements and Testimonials in Advertising." See my Disclosure Policy for more info.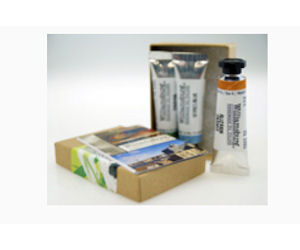 Williamsburg is giving away free sample sets of their handmade oil paint sets.
Fill in the form and select your free sample set.
Choose from 3 sets
First Look Sample Set (3 – 5ml tubes)
Seductive transparent orange with a fiery undertone of yellow, clean and bright blue, and cool velvety green come together for a first glimpse at the magic of Williamsburg Oil colors. Includes: Alizarin Orange, Sevres Blue, Viridian
Landscape Sample Set (3 – 5ml tubes)
The deep and moody tones of our signature Courbet Green is paired with two classic colors for a trio that plein aire painters will find essential. Includes: Courbet Green, Ultramarine Blue, Yellow Ochre (Domestic)
Safflower Sample Set (3 – 5ml tubes)
Produced in the highest quality, expeller pressed Safflower oil, these colors are invaluable for holding onto maximum clarity and brightness in upper layers of paintings. Includes: Titanium White, Ultramarine Pink, Ultramarine Blue
Such a generous offer and perfect for summer vacation starting, maybe get your kids interested in working with oil paints.
How exciting right?? Why not click one of those share buttons below and let your friends know 🙂
Also be sure to go Like Us On Facebook and Follow Along in the Chat Group.
Share your deals with the other Frugal Fans.
If you have liked what you saw today, Please Consider Signing up for our Daily Newsletter. Keep up to Date on all the Hot Deals. Sign Up Now