"This post may contain affiliate links or sponsored content. I am disclosing this in accordance with the Federal Trade Commission's 16 CFR, Part 255: "Guides Concerning the Use of Endorsements and Testimonials in Advertising." See my Disclosure Policy for more info.
Wanna Stay in the Loop??
Believe me I know you have so many sites you get your information from, it is hard to stay up with who is posting what deal.
Here are a few steps you can follow to be sure you are always up to date with the deals I am posting here at OOingle.
First is Facebook!! I am always posting what the latest blog post is there, or if I am out shopping and find something HOT
I post it right away while on the road.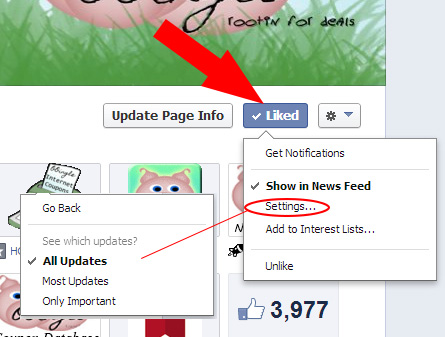 Be Sure to head over to the Facebook Page
Hover over Liked
Click Settings
and then All Updates
This ensures you always see the latest posts, you have to do this so Facebook realizes you actually want to see stuff for the pages you like. 
Go figure right!

Next anytime you are on the Facebook page here are a few areas you can hit for the things you always want access to, like printable coupons or the Coupon Database.
Always right there waiting for you.
Also we offer a Newsletter, in most cases you will only get 1 email a day and it shows you all the posts from the day before. Its a great way to enjoy your coffee in the morning and check out the deals.
If I find a crazy good deal and think it is worth hitting your box a 2nd time I will send out a Hot Deal Alert but I promise you if you get one of those it is Crazy Good!!
Just fill out this form to be included on the email list
[madmimi id=2]
You can find me all over social media also
| Twitter | Pinterest | Google + |
 <3<3 I LOVE MY FANS!! <3<3
How exciting right?? Why not click one of those share buttons below and let your friends know 🙂
Also be sure to go Like Us On Facebook and Follow Along in the Chat Group.
Share your deals with the other Frugal Fans.
If you have liked what you saw today, Please Consider Signing up for our Daily Newsletter. Keep up to Date on all the Hot Deals. Sign Up Now