"This post may contain affiliate links or sponsored content. I am disclosing this in accordance with the Federal Trade Commission's 16 CFR, Part 255: "Guides Concerning the Use of Endorsements and Testimonials in Advertising." See my Disclosure Policy for more info.
Cycloramic Hands Free 360 Panorama App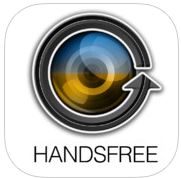 When my hubby and myself saw this in iTunes and we were calling BS, they showed tons of flashy videos showing the iPhone rotating on a surface standing up with no assistance from anyone. I of course had to download the app, it is currently FREE and I figured why not. Also the other thing that intrigued me is the fact it was still in the App Store. Apple is very strict on the fact that apps must do what they state they will do.
WELL IT ACTUALLY WORKS!! I am not kidding you 🙂 if you have an iPhone 5 or iPhone 5s the handsfree option will work for you like a charm.
It makes use of the vibrate on silent feature and as it vibrates your phone it rotates when it is standing on end. The app then takes pictures as it rotates and in the end stitches them all together.
If you do not have an iPhone 5 the app will still work for you, but you will need to rotate, however how this is different from the Apple Panorama it gives you very clear guidance on when the stop as it captures so it will have the best possible images to stitch together at the end of the capture.
If you have taken other Panoramic shots in the past and would like them turned into a video, this app can do this also. It has very nice features for Panoramic images.
It is currently FREE in the App store along with FREE unlimited use and FREE removal of their watermark.
DOWNLOAD HERE Cycloramic Studio 360 Panorama – Egos Ventures
CHECK OUT THE VIDEO I SHOT OF IT IN ACTION AND SEE THE VIDEO IT CREATES OF THE IMAGE.
How exciting right?? Why not click one of those share buttons below and let your friends know 🙂
Also be sure to go Like Us On Facebook and Follow Along in the Chat Group.
Share your deals with the other Frugal Fans.
If you have liked what you saw today, Please Consider Signing up for our Daily Newsletter. Keep up to Date on all the Hot Deals. Sign Up Now