"This post may contain affiliate links or sponsored content. I am disclosing this in accordance with the Federal Trade Commission's 16 CFR, Part 255: "Guides Concerning the Use of Endorsements and Testimonials in Advertising." See my Disclosure Policy for more info.
WOOT WOOT Another great E.L.F deal, anything makeup always makes for a great Stocking Stuff right??
You can pick up this e.l.f. Essential Super Glossy Lip Shine right now for only $1.00!!
Orders over $35 get FREE SHIPPING
However you can get a $35 order for $20
You will see at checkout when your order is over $25 that you will be getting a free Subscription to Allure Magazine
The Rebate Details state you can mail off for a $15 rebate instead of getting the Magazine order!
EASY PEASY $35 of Makeup for $20!!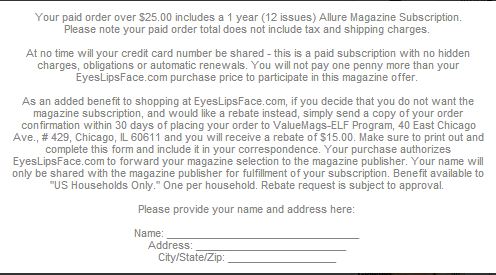 ~~~~~~~~~~~~~~~~~~~~~~~~~~~~~~~~~~~~
This Super Glossy formula leaves your lips with a healthy glossy glow. The delicious flavor and sweet scent will leave you licking your lips in delight. The perfect on-the-go tube that is mess-proof for easy application anywhere and anytime. Wear alone or layered over your favorite lipsticks for gorgeous, glossy lips!
How exciting right?? Why not click one of those share buttons below and let your friends know 🙂
Also be sure to go Like Us On Facebook and Follow Along in the Chat Group.
Share your deals with the other Frugal Fans.
If you have liked what you saw today, Please Consider Signing up for our Daily Newsletter. Keep up to Date on all the Hot Deals. Sign Up Now