10
Our overall verdict "Perfect"
"This post may contain affiliate links or sponsored content. I am disclosing this in accordance with the Federal Trade Commission's 16 CFR, Part 255: "Guides Concerning the Use of Endorsements and Testimonials in Advertising." See my Disclosure Policy for more info.
*I was provided a review copy as compensation for this post, the opinions and observations are my own.
At first glance the Mio Alpha Heart Rate Sports Watch appears to be a normal Sports Watch. It is far from normal though let me tell you. It is packed with some crazy technology.
Gone are the days of needing to wear a strap around your chest to get a proper heart rate reading while you are exercising. Or even going to the gym so you can use the fancy equipment to get those readings. Now the technology is right on your wrist, ready to turn on and monitor your heart rate when ever the moment strikes to go for a jog.
With LED lights and an electro-optical cell it "senses" the volume of blood under the skin. This is all built in on the back of the watch and snug on your wrist. It wears comfortably and you do not notice the sensor on the back. When you are not using it to monitor your heart rate you can still use it as a normal watch for daily wear.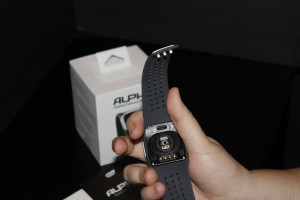 At 30m Water Resistant you can be sure it will keep up with your fitness regime wherever it may take you.
One of the Coolest features I found with it, since I am a tried and true iPhone geek, there are lots of apps that connect with this watch. Since it has Bluetooth 4.0 be ready to have plenty of stats.
Mio Global who is the company behind this watch has their own app called Mio GO, the app is Free and also at least to me seemed necessary for the initial link up between my phone and the watch. The normal iPhone Bluetooth settings did not show the watch, however the moment I told the app to link to it, it showed right up.
Also I found that Map My Fitness+ worked well with the Mio Alpha as well as a new app I found called MySleepRate.
You however do not have to use it with a Smart Phone. It has a 3 user-settable heart rate zones, so you can train within a set range to pace yourself without over doing it or under doing it. Heart rate training is proven to help you train more efficiently and effectively, so you can optimize your performance and maximize your workout.
After 2 days of testing and wearing it at night when I sleep to use the Sleep Rate app and more playing with it, I only managed to make its battery drop one cell. So my initial observation there is it has a very decent length of use between charges. And speaking of the charger it is a very nice compact design and it magnetizes to the back of the watch to charge it.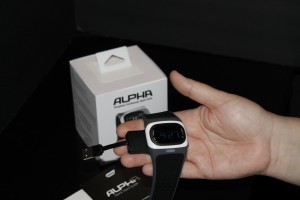 The Mio Alpha Heart Rate Sports Watch goes for $199.00
How exciting right?? Why not click one of those share buttons below and let your friends know 🙂
Also be sure to go Like Us On Facebook and Follow Along in the Chat Group.
Share your deals with the other Frugal Fans.
If you have liked what you saw today, Please Consider Signing up for our Daily Newsletter. Keep up to Date on all the Hot Deals. Sign Up Now