"This post may contain affiliate links or sponsored content. I am disclosing this in accordance with the Federal Trade Commission's 16 CFR, Part 255: "Guides Concerning the Use of Endorsements and Testimonials in Advertising." See my Disclosure Policy for more info.
I was provided with a Back to School Pack from Babybel to write this post.
Back to School is here which also means planning healthy lunches. This year my son is doing virtual school so for us that just means having healthy stuff around the house that he can grab on his breaks and at lunch.
His last few weeks of summer break we had some family visiting and he stayed with them and he went to theater camp for a week. Each day he needed to take a lunch, so every morning after then took an early morning walk, they would come back and put together a lunch for him for the day.
Most days it included a cheese, grapes, some sort of cracker snack, and a sandwich with turkey on whole wheat bread. Each day though my Aunt would mix things up and find something else he would be interested in eating through out the day.
DID YA KNOW??
Most packed lunches are not keeping up with what kids are willing to try. Studies show that kids 25% more likely to try new foods than parents even. You likely might actually get an adventurous eater to eat once or twice a day from the veggies, fruits and cheese category.
A serving of cheese contains 5 – 6 grams of protein  and 15 – 20% of daily calcium needs.
Also recent studies show that replacing non-nutrient  rich snack foods such as chips with a combo of cheese and veggies can reduce calories by 72% and will keep them feeling full longer.
If your looking for new items to pack in your kids lunches, let me tell you should look into picking up Weelicious Lunches by Catherine McCord. My copy has so many stickies in it it looks like its wearing 80s fringe LOL
Here is a Lunch Box Checklist Printable that was included with my gift set. Feel free to print and put on your fridge.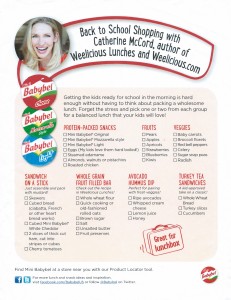 How exciting right?? Why not click one of those share buttons below and let your friends know 🙂
Also be sure to go Like Us On Facebook and Follow Along in the Chat Group.
Share your deals with the other Frugal Fans.
If you have liked what you saw today, Please Consider Signing up for our Daily Newsletter. Keep up to Date on all the Hot Deals. Sign Up Now