8.5
Our overall verdict "Excellent"
"This post may contain affiliate links or sponsored content. I am disclosing this in accordance with the Federal Trade Commission's 16 CFR, Part 255: "Guides Concerning the Use of Endorsements and Testimonials in Advertising." See my Disclosure Policy for more info.
I recently received the 32GB Sandisk Connect Wireless Flash Drive to add to my Girl Geek-Out section, the folks over at Sandisk were generous enough to send me a copy over for review.
If you are a app addict like me your phone is probably jam packed with every app imaginable. Both my iPhone 16 GB and my iPad 32 GB are both pretty packed, I just love the diverse things apps can do LOL.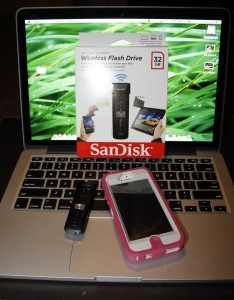 Anyways all those apps take up all the space in my phone especially and leaves no room for photos or videos, at least not to be stored for any length of time. The Sandisk Connect Wireless Flash Drive helps ease that pain. It creates its own wireless network anywhere you are, even if your on the road, you can then connect to the wireless signal it puts out and transfer what you want to it through their Sandisk Wireless Flash app. It was a quick and simple process to learn and my photos that I have on my phone were backed up fairly quickly. I would say about 5 mins for the 300+ photos I have.
Its storage is upgradable as it is a micro SD card, so you could essentially have separate Micro SD cards for each device you want to backup. Another nice feature is you can store movies to this, however for it to play back smooth you need to put the videos on as compressed video. If you upload 1080p videos the play back will get stopped ever so often to buffer.
The best use I can think of for being able to put videos on this, you can upload videos to this and then if you go on a road trip each of the kids could be connected to this at the same time with different devices watching different movies. Up to 3 devices can stream video at ones and up to 8 devices can connect to get photos and documents.
These are sold in 3 different size options: 16 GB for $49.99 ; 32 GB for $59.99 ; 64 GB $99.99
Product was provided by Sandisk directly for review purposes.
How exciting right?? Why not click one of those share buttons below and let your friends know 🙂
Also be sure to go Like Us On Facebook and Follow Along in the Chat Group.
Share your deals with the other Frugal Fans.
If you have liked what you saw today, Please Consider Signing up for our Daily Newsletter. Keep up to Date on all the Hot Deals. Sign Up Now