10
Our overall verdict "Perfect"
"This post may contain affiliate links or sponsored content. I am disclosing this in accordance with the Federal Trade Commission's 16 CFR, Part 255: "Guides Concerning the Use of Endorsements and Testimonials in Advertising." See my Disclosure Policy for more info.
The following products were sent to me as compensation for a review, however opinions and experiences are my own.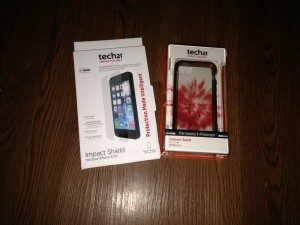 The folks over at Tech 21 sent me their Impact Band & Impact Shield for my iPhone 5. While I was waiting for them to show up I had checked out their website and watched the application videos for the Screen protector and was thinking yeah right, no screen protector goes on that simple. I WAS WRONG YA'LL!!
So they give you this little plastic thing that slides on the bottom of your iPhone and covers your home button, you use that to line up the Impact Shield with. (SIDE NOTE: Make sure you do this on a table away from dust and what not.) The side that goes to your phone is like slightly sticky but not so bad that you can't touch it or if dust gets on it you can tend to wipe it off.
Anyways you use the plastic part to align it, let it lay down and pull that tool off and the Impact Shield just kinda sucks to your screen, I mean like FOR REAL!! I was left with a few bubbles near the edge and the plastic squeegee they give you pushed those right out. You can see in the video how perfect it looks on my screen just so nice.
The Impact Band is a kinda hard, kinda soft plastic, its pliable enough to work it onto your phone. It has a hard plastic piece that goes on the back of your phone to protect it from scratches.
Now this combo is suppose to protect my phone from drops and impacts on my screen. The Impact Shield supposedly makes my screen almost bullet proof. Yeah not testing that out ya'll but that is cool. I mean I at least know its safe from myself and my keys and my purse at least LOL.
I have moved to this from my Otterbox and love the fact that it gives me that sleek feeling of my phone back. I kinda missed that.
This will be featured in my 2014 Back to School Shopping Guide, since you know sending your kids back to school means sports and them out and about, you know their electronics need protection from them LOL. Lord knows you do not want to have to replace them. So be sure and check out the guide.
How exciting right?? Why not click one of those share buttons below and let your friends know 🙂
Also be sure to go Like Us On Facebook and Follow Along in the Chat Group.
Share your deals with the other Frugal Fans.
If you have liked what you saw today, Please Consider Signing up for our Daily Newsletter. Keep up to Date on all the Hot Deals. Sign Up Now