10
Our overall verdict "Perfect"
"This post may contain affiliate links or sponsored content. I am disclosing this in accordance with the Federal Trade Commission's 16 CFR, Part 255: "Guides Concerning the Use of Endorsements and Testimonials in Advertising." See my Disclosure Policy for more info.
I have been provided with the following product as compensation for this review, the observations and opinions are my own.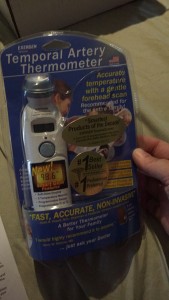 You've seen these being used in the Drs office or the hospital, the thermometer the nurse runs quickly across your forehead so quickly and easily to get your temperature. The Exergen Temporal Scanner Thermometer is the least invasive means of taking temperatures. For those of you with little ones, this is great for checking a sick little ones temperature without disturbing them while they sleep.
You simply touch it to their forehead press the button and move it over to their temple. Quick simple and accurate.
While testing this I compared readings from this to readings from a normal mouth thermometer and they were within just a couple points on the temps. Pretty impressive for sure. There will be a video at the end that shows you how really simple this works.
It uses infrared technology to register the temperature of the arterial heat and computes the correct temperature.
You can change the beep settings, also keep track of different temperatures with the 8 memory spots. All of this is controlled with the 1 button. These newer models also have a backlight on the screen so you can read it in a dark bedroom.
Overall I am super impressed with this thermometer and it will for sure be the new way of taking temps around our house, especially since NO ONE likes the ear thermometer.
How exciting right?? Why not click one of those share buttons below and let your friends know 🙂
Also be sure to go Like Us On Facebook and Follow Along in the Chat Group.
Share your deals with the other Frugal Fans.
If you have liked what you saw today, Please Consider Signing up for our Daily Newsletter. Keep up to Date on all the Hot Deals. Sign Up Now