"This post may contain affiliate links or sponsored content. I am disclosing this in accordance with the Federal Trade Commission's 16 CFR, Part 255: "Guides Concerning the Use of Endorsements and Testimonials in Advertising." See my Disclosure Policy for more info.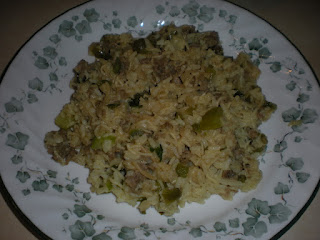 This is an all time favorite around my house and it is SOOO cheap to make.
Honestly especially if you stockpile you will have a majority of these items on hand. But this recipe should cost you less than $5 to make if you have to go out and get the ingredients.
Sausage & Rice Casserole
Author: Carol Pyles
Recipe type: Entree
Serves: 4 - 5
Ingredients
1 lb sausage tube
2 3.5 oz bags boil in bag rice (not gonna follow box directions)
5 cups water
½ cup butter or margarine
2 pkgs dry chicken Noodle soup mix from 4.2 oz box
1 cup diced frozen onion
1 cup diced frozen green pepper
1 cup chopped celery
Side note: try finding a bag of ONION/GREEN PEPPER/CELERY mixed in frozen section and use 3 cups)
¼ cup fresh chopped parsley
⅛ tsp paprika
½ tsp garlic powder
Instructions
Preheat Oven to 350 degrees
Cook and Crumble Sausage on medium heat until brown. Drain. Set aside
In large pot bring water to boil. Add Rice and Soup Mix and boil for 10 mins while stirring
Add sausage, peppers, onion, celery, parsley, seasonings & butter. Stir Together.
Pour into 2 qt Casserole dish and sprinkle paprika over the top.
Bake for 40 – 50 mins till liquid is all absorbed.
How exciting right?? Why not click one of those share buttons below and let your friends know 🙂
Also be sure to go Like Us On Facebook and Follow Along in the Chat Group.
Share your deals with the other Frugal Fans.
If you have liked what you saw today, Please Consider Signing up for our Daily Newsletter. Keep up to Date on all the Hot Deals. Sign Up Now